All VZH breeding Females are real life working dogs, either trained in Protection or Tracking. As per the European breeding standard, all VZH females meet the qualifications for breed quality. All VZH Females carry the X Chromosome of the legendary Palme V. Wildsteiger Land.
Eight Belles Vom Zeder Haus (Bella)
An excellent protection dog, Bella has outstanding bone, muscle and structure.
Bella is the daughter of Puma V Mittelwest. She is the Granddaughter of VA Sch 3 Commander V D Manuspitz. She is also the Granddaughter of V Sch 3 Wick V Buchhorn and the great granddaughter of World Sieger Bax V Luisenstrasse.
Bella has an interest in rocks and fossils. Davis Creek, a major tributary to Norris Lake runs thru the VZH property. Bella frequently searches the creek for unique rocks and fossils, we have an array of each that she has carried back to the house and kennel area from the creek.
Bella was named after the Race Horse Filly "Eight Belles" who finished ahead of 18 Colts in the 2008 Kentucky Derby. Shortly after crossing the finish line, both of Eight Belles front ankles fractured and she was euthanized on the track moments later.
Also pictured is Edward Denny of VZH with Race Horse Trainer Larry Jones, he trained Eight Belles.
Ruffian is a very compact, petite female,however very much exemplifies the adage that dynamite comes in small packages. A high level protection dog weighing about 50lb, she has taken more than one 200lb+ Man off of his feet during bitework. While possessing a wonderful temperament, Ruff has tremendous drive and very high intelligence. She is the daughter of Puma Vom Mittelwest and Olivia V.D. Weissinger. Ruff is also the granddaughter of the legendary VA Sch 3 Guido Vom Beltenkamp.
Gama is one of the top young females in the world, an excellent protection dog, and she loves children. Gama is a beautiful German Shepherd with excellent bone volume and structure. We acquired Gama in the Carpathian Mountains of Central Europe.
Gama is the daughter of VA Sch III Indor Z Lintichu, and VD SVV I Bonie Lastex. Gama will provide excellent out-crossing to the Vom Zeder Haus breeding program.
Fata was imported from Slovakia after being trained in protection by "Josef Mravik". She is very indicative of Slovak breeding in that while her confirmation is not the best, she has world class drives and is very eager to work. Fata has very good civil drive and is very social with all visitors to Vom Zeder Haus.
Fata is the daughter of VA1 Sch III SVV II and IPO III Gassy Dlha Roven. She is also the daughter of V Sch I Amida Von Der Plassenburs, and the Granddaughter of VA Esko Von Danischen Hof.
Fata's pedigree goes back to very good old German lines such as Kirschental and Trienzbachtal.
Like Gama, Fata will provide excellent out-crossing to the Vom Zeder Haus breeding program.
Raina came to the U.S. from Europe in the spring of 2010. She is very indicative of Slovak breeding, being a very heavily boned, ruggedly built girl, and possesses outstanding drives and working ability.
Raina is the daughter of two of the top German Shepherds in the world….V1 Sch III Tyson V Kottersbusch and V Sch III SVV2 IPO III Zaira Vlady Sal.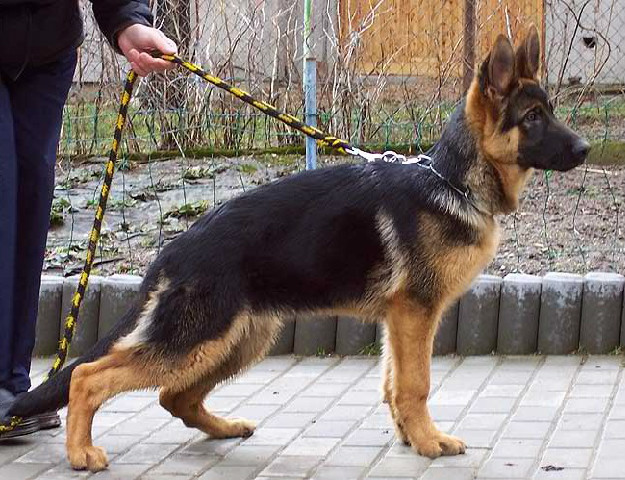 Ziva pictured here at 11 months is a daughter of V1 Sch III Zam Vom Schneiden Fels . We acquired Ziva because her female lines go back to VA Sch III Guido Vom Beltenkamp. Guido produced strong drives and overall substance theu his female lines. Now 2 years of age, Ziva is a tracking dog.
A daughter of our Yano and Yada, Dani is a high quality female with outstanding structure and wonderful character. She is a tracking dog.
Della is a daughter of our former stud male Hobbie, and our Gunnie. While oversized, she possesses good structure and a wonderful temperament. Della is a tracking dog.